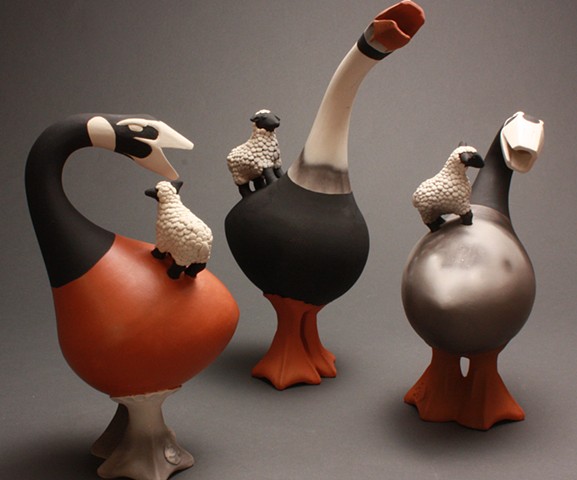 Artist Statement
I have a real fascination with Canada geese. I'm not sure why ... perhaps its that they remind me of people! They loudly broadcast their arrival with their distinct calls and often party into the wee hours. Hmmmmm..... a lot like some humans I know.
After a year of living in Wales I have also discovered that I am rather enamored with sheep. Oh dear first geese now sheep! Why sheep? They are just so sweet and I smile every time I see them. Perhaps they are a good balance to the more tenacious geese.
So not only do images of geese continue to show up on my functional work but now sheep are also making their way onto my pottery. All of my functional pieces are formed on the pottery wheel. I am currently using a beautiful white clay body formulated in Medicine Hat, Alberta. I hand paint all the images on my work making each piece unique and distinctive.
To make the sculptural geese I start on the pottery wheel forming the individual parts which are then assembled to create the birds. This is my favorite part of the process as I see the personality of each goose emerge.
I live and work in beautiful Calgary, Alberta where I teach pottery and drawing classes for the City of Calgary. When I'm not teaching I head for my backyard studio where I always take a minute to gaze upward to see if a few of the gang might be flying overhead. I have also discovered some wonderful sheep not far from Calgary that I have had the pleasure to visit.


Thank you for visiting my website,
Suzette Knudsen